Used Motor Oil and Filter Recycling Locations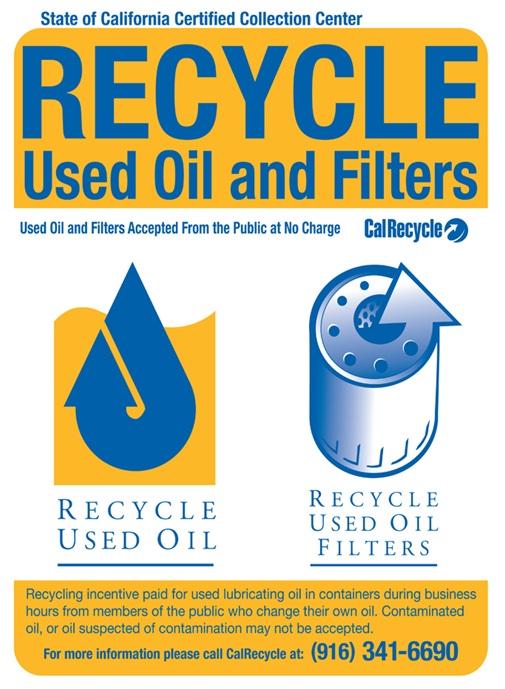 Please call the drop-off location prior to bringing your used oil & filter to ensure the shop is open. Bring the used oil and filter to a collection center employee. Never abandon used oil or filters outside of the business when the shop is closed.

Atherton
Recycle at the curb (single-family homes)
Belmont
Belmont Shell Auto Care
2000 Ralston Ave.
(650) 592-3637
Spiteri's Auto Service, Inc.
292 Old County Rd.
(650) 593-4758
Brisbane
N.O.D. Auto Service
130 Industrial Avenue Unit B
(415) 988-7557
Burlingame
Recycle at the curb (single-family homes)
Colma
Recycle at the curb (single-family homes)
Daly City
ATECH Auto Repair
5975 Mission St.
(415) 337-5425
Auto Zone
6212 Mission St.
(650) 755-5145
DAS Auto Service
1118 Hillsdale Blvd.
(650) 731-8500
O'Reilly Auto Parts
5 Skyline Plaza
(650) 994-2650
O'Reilly Auto Parts
7283 Mission St.
(650) 755-8890
SpeeDee Oil Change (used oil only, no filters accepted)
1600 Sullivan Ave.
(650) 755-8777
M Yan Auto Repair
2579 Geneva Ave.
(415) 656-1818
Sunrise Auto Service
6050 Mission St.
(650) 991-1888
Wynn's Motors
1216 Hillside Blvd.
(415) 341-2593
East Palo Alto
AutoZone
2160 University Ave.
(650) 321-7221
Foster City
Hillsdale Arco Auto Repair
880 E. Hillsdale Blvd.
(650) 349-1849
Half Moon Bay
Ox Mountain Landfill
12310 Highway 92
(650) 713-3623
Pillar Point Harbor
1 Johnson Pier
(650) 726-5727
Hillsborough
Recycle at the curb (single-family homes)
Menlo Park
M & R Automotive
1281 El Camino Real
(650) 325-3900
Oil Changer
944 Willow Rd.
(650) 321-9041
Sharon Heights Shell
125 Sharon Park Dr.
(650) 854-3400
Millbrae
AutoZone
320 El Camino Real
(650) 697-3504
Firestone Store
1201 El Camino Real
(650) 871-9096
O'Reilly Auto Parts #2581
1200 El Camino Real
(650) 583-0443
Pacifica
Recology of the Coast (Pacifica residents only)
1046 Palmetto Ave.
(650) 355-9000
Oil Changer
2880 Skyline Blvd.
(650) 355-7233
Sanford Firestone
705 Hickey Blvd.
(650) 355-1154
Pescadero
Pescadero Transfer Station-Allied Waste
Bean Hollow Rd. @ Artichoke
(650) 879-0729
Redwood City
AutoZone
901 El Camino Real
(650) 556-1684
Boardwalk Auto Center
1 Bair Island Rd.
(650) 364-0100
Firestone Store
1458 El Camino Real
(650) 364-1900
Jiffy Lube
640 Whipple Ave.
(650) 369-8067
O'Reilly Auto Parts
2411 El Camino Real
(650) 368-2831
Oil Changer
2762 El Camino Real
(650) 366-5394
Toyota 101
525 E. Bayshore Rd.
(650) 365-5000
Toyota Scion Specialist
61 Willow St.
(650) 363-1290
Towne Ford Sales
1601 El Camino Real
(650) 366-5744
Woodside Auto & Tire
333 Woodside Rd.
(650) 363-0460
San Bruno
Jiffy Lube
1580 El Camino Real
(650) 588-3970
Recology San Bruno (San Bruno residents only)
101 Tanforan Ave.
(650) 588-3970
Skyline College Automotive Department
3300 College Dr.
(650) 738-4126
SpeeDee Oil Change
801 El Camino Real
(650) 588-3970
San Carlos
Jiffy Lube
1030 El Camino Real
(650) 594-1688
Max Motors
945 American St.
(650) 594-0410
O'Reilly Auto Parts
1272 El Camino Real
(650) 595-5112
Pep Boys
1087 Old County Rd.
(650) 632-1522
Perfect Lube
1792 El Camino Real
(650) 593-4758
Shoreway Environmental Center
333 Shoreway Rd.
(650) 802-8355
San Mateo
AutoZone
3880 S. El Camino Real
(650) 372-0535
Big O Tires
2160 El Camino Real
(650) 212-2446
Chevron Oil Stop
2009 El Camino Real
(650) 572-8000
H & D Auto Repair
1471 E Third Ave.
(650) 342-8818
Jiffy Lube
2517 S. El Camino Real
(650) 349-7222
Jiffy Lube
407 S. Delaware St.
(650) 344-8243
O'Reilly Auto Parts
2640 S. El Camino Real
(650) 349-1275
O'Reilly Auto Parts
400 S. Norfolk St.
(650) 344-2448
Reeds Service Center
1641 Palm Ave.
(650) 341-6675
South San Francisco
Blueline Transfer Station
500 E. Jamie Ct.
(650) 589-4020
O'Reilly Auto Parts
1059 El Camino Real
(650) 589-8102
O'Reilly Auto Parts
3541 Callan Blvd.
(650) 827-9081
Shiva Auto Repair
118 S. Spruce Ave.
(650) 225-0600