¡Sana, Sana! Colita de Rana!
"Community Health Equity"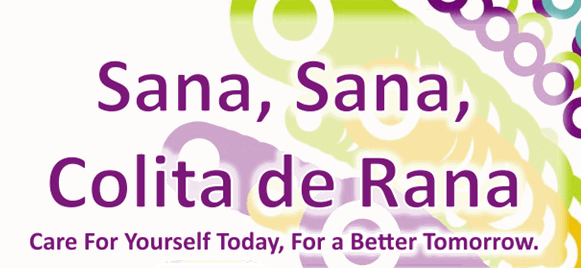 Free Family Event: 4th Annual Latino Health Forum
¡Sana, Sana! Colita de Rana! Cuidate Hoy Para Un Mejor Mañana
Take Care of Yourself Today for a Better Tomorrow
Healthy Mind, Body and Soul, Live Healthy!
Join the movement for healthy change and discover many important and fun ways to be physically and emotionally healthy. Improve the well being of your family by learning about the community resources available to you.
Learn about:
Healthy Habits
Healthy Communities
Nutrition
Managing Emotional Stress
Access to Mental Health Services
Keynote speaker: Celia Moreno, MD
Saturday, October 8, 2016
10:30 am - 3:30 pm
Martin Luther King Jr. Community Center
725 Monte Diablo Ave.
San Mateo, CA 94401
Print the flyer - English, Spanish
Agenda
10:45 – 11: 15am: Welcome/Opening Remarks, Keynote Speaker - Celia Moreno, MD
11:15 am – 12:15 pm: Lived Experienced Panel on mental health/substance use topics and where to find help
12:15 – 12:30 pm: Guitar Soloist Performance
12:30 – 1:15 pm: Lunch served catered by La Hacienda Market
1:15 pm – 2:15 pm: Suicide prevention/Recognizing the Signs
2:15 – 2:30 pm: Zumba – get up and get moving
2:30 – 3:30pm: Nutrition 101
Raffles throughout the day!
Presented in Spanish with English translation.