Our Residents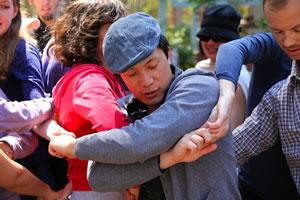 Our community of residents is the heart and soul of our program. We see our residency not only as a communal forum for learning but also as the spring board for each resident's individual professional growth. We care about the health of our residents, and do our best to ensure they are heard and respected. Residents learn together through small work groups and, as they become more senior, in sharing their knowledge by teaching junior residents. Ultimately, we hope to foster a bond between residents that will continue long after their training days in San Mateo are over.
The residents who enter our program are committed to community psychiatry and to making a positive impact on the lives of their patients, on our system, and on the field of psychiatry. They are self-starters and have had diverse life experiences that have led some to pursue advanced degrees such as MPH, MBA, and MA among others. Our current group comes from the following medical schools: Drexel Univ., Hofstra Univ., UC Davis, UCLA, UCSF (2), Tufts Univ. (2), Tulane Univ., Univ. of Illinois (2), UC Irvine, Florida State Univ., Louisiana State Univ., Mt. Sinai, Vanderbilt Univ. and Wake Forest Univ.
While in training, our residents are often involved in organizational psychiatry, and our program has had 100% APA membership over the last several years. In addition, several residents have held fellowships from the APA including the APA/SAMHSA Minority Fellowship and the APA Public Psychiatry Fellowship. Our residents also have the opportunity to participate in shaping how our county behavioral health services deliver care from clinical as well as policy and systems perspectives. After training, our residents pursue a variety of career paths. Many of our residents have gone on to fellowships in Child and Adolescent Psychiatry, Forensics, Public Psychiatry, and Addiction among others. Many residents have pursued careers in community psychiatry, academic psychiatry, organizational psychiatry, and private practice. Many continue to be involved in the residency program community as mentors and supervisors.