Texting 911 – Now an Option for Residents in an Emergency
Call if You Can, Text 911 if You Can't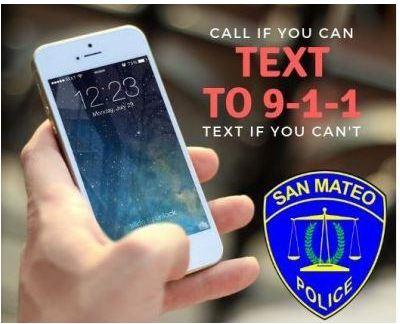 A San Mateo County-wide text-to-911 program launched in October 2018, enabling every police, fire and sheriff's dispatcher in the county to receive emergency calls for help via text message.
Neighboring law enforcement agencies, including the Alameda County Sheriff's Office and Santa Clara police also accept and respond to 911 texts.
While the text-to-911 program expands the community's ability to call for help in emergency situations, officials are still urging people to text 911 only if calling is not an option.
San Mateo police offered the following tips for texting 911.
Always provide the exact location of the emergency
Text messages should be brief and easy to understand
Do not use abbreviations, emojis or slang
Remember that the ability to send/receive images and videos is limited and often dependent on the cellular provider
Texts can only be received in English at this time – this service will be available in additional languages in the near future in San Mateo County.
It's also important to note that phones or devices must be on a text or data plan, be text capable, and have their location services enabled to send a text message to 911.