More News & Events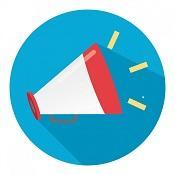 North County Youth Clinic Now Open
The new BHRS clinic serving youth in North County is youth is now open and is located at 350 90th Street, 2nd Flr, Daly City, CA 94015, Ph: (650) 301-8650, Fax: (650) 877-5486. Stay tuned for information on their grand opening.
Lived Experience Academy Starts October 3
Learn how to share stories from your life to empower yourself and others, reduce stigma, improve the County's services and develop your leadership skills.
If you or a loved one has experienced mental health and/or substance abuse challenges, and want to make a difference, we can teach you how to present your stories of recovery in a way that inspires others and helps improve the County's behavioral health services and the lives of San Mateo County clients and family members.
Apply by September 16, 2019. For more information or to apply,
contact: Lee Harrison at (650) 372-6118, leharrison@smcgov.org
or Jairo Wilches at (650) 573 2890, jwilches@smcgov.org from the BHRS Office of Consumer & Family Affairs. Download the flier.
Housing Heroes Awards – October 24
12th Annual Housing Hero Awards celebration honoring community partners who have demonstrated exceptional leadership in providing and/or maintaining housing for individuals in San Mateo County with mental health and/or co-occurring conditions. Thursday, October 24, 2019, 3:00 PM to 4:30 PM, Redwood Shores Library Community Room, 399 Marine Parkway, Redwood City. Download the flier for details. Nominate someone by 9/17/19.
Celebrate Recovery Month Events – September
San Mateo County is celebrating Recovery Month by holding a variety of events to honor individuals and families who are in long-term recovery. Free events include a art show, recovery breakfast and proclamation, BBQ picnic, and a dance and comedy show throughout the month.
#IMHEREFORYOU: Connection to Suicide Prevention Events - September
Attend one of the 20 free events that aims to equip individuals with words and resources to connect with people who may be thinking about suicide, including bullying/cyberbullying presentations, film screenings and craft workshops and more.
More News on the BHRS Blog
For more current up to date news and events, visit the BHRS blog at www.smcbhrsblog.org.