Cordilleras Campus Redesign
Mental Health Center Redesign Projects
Cordilleras Mental Health Center, located in Redwood City, is a County-owned, 117-bed psychiatric facility for adults with chronic, serious mental illness and one of the County's most important resources for its most vulnerable mentally ill residents. The Center is slated to be replaced by 2021, with new facilities that will meet modern standards of care.
The goal of the project is to transform Cordilleras into a center for consumer wellness, rehabilitation and recovery that leverages every aspect of the built and natural environment. The center will utilize best practices for treatment and bring together the expertise of providers, family members, consumers and community members.
The current building is about 70 years old and very costly to maintain due to its age and need for frequent repairs. Cordilleras currently has 68 Mental Health Rehabilitation Center (MHRC) beds and 49 licensed board and care beds. It is more costly to send our clients outside of the county – where we have less input into their daily care and eventual transition back into our community. The new facilities will offer 80 Mental Health Rehabilitation Center beds and 57 supported housing beds.
Project Design
The proposed future campus will consist of six separate buildings comprised of five single-story, 16-bed Mental Health Rehabilitation Centers (MHRC's), each independently operated, and a three-story Campus Center.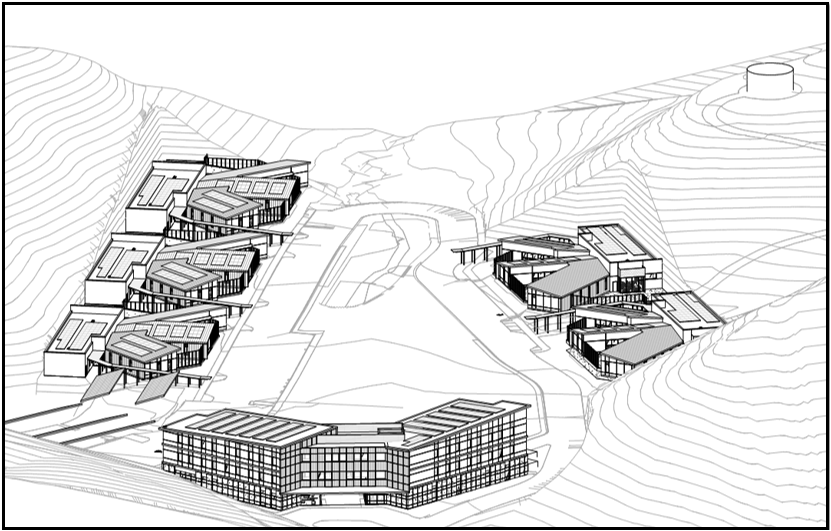 Mental Health Rehabilitation Centers
In order to tailor treatment approaches to best meet clients' needs, the five new MHRC's will each focus on providing services for a specific population which include:
Young adults with co-occurring disorders.
Medically challenged and fragile.
Severely regressed.
Extensive trauma histories.
People with a higher risk of violence.
All programs will be trauma informed and include a substance use recovery focus. 75 percent of the bedrooms will be single occupancy, and 25 percent will be doubles, housing a total of 80 clients.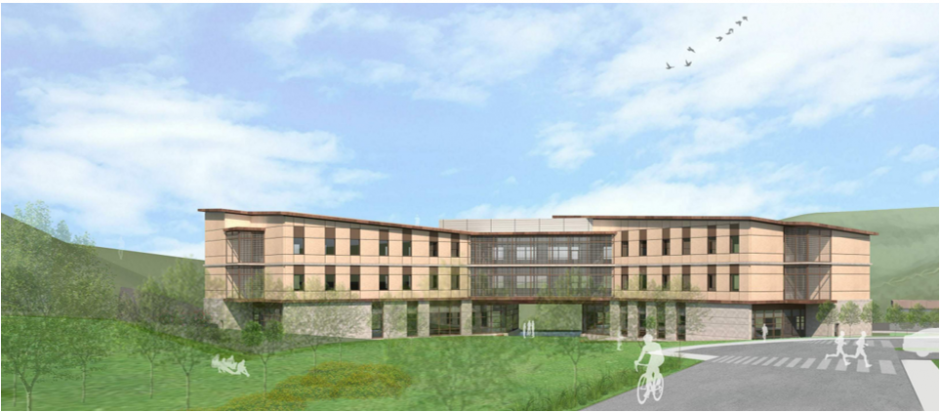 Campus Center
The Campus Center will be comprised of two wings. One wing will house the chapel, medication room, art center, exercise room, primary care exam rooms, conference room and volunteer center. The other will house a commercial kitchen, retail store, bed bug elimination room and engineering/mechanical rooms. The commercial kitchen will provide culinary training to clients and the retail store will sell food prepared by the kitchen, as well as artwork created by clients at the art center.
Supported Housing for 57 Residents
The two upper floors of the Campus Center will be designated for supported housing and will house 57 residents, each in their own bedroom. Each floor will have two living rooms, a community kitchen where residents can cook their own meals and a dining area with views of the campus. Staff will be onsite 24/7 for case management and to manage housing needs.
Construction to Begin Summer 2019
Construction is scheduled to begin next summer, with completion slated for 2021. We anticipate moving clients into the new buildings just before the summer of 2021. This timeline is subject to change, pending new developments.
We also plan to name each of the six new buildings on the campus and will want your input. Stay tuned for more information on this process.