Health Equity Initiatives: Diversity and Equity Council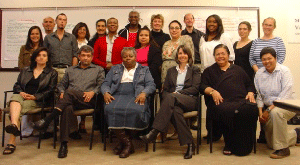 The Diversity and Equity Council (DEC) is a guiding body that works to embrace diversity, eliminate health disparities and advance equity in San Mateo County. We coordinate, inform, support, advocate and consult with Behavioral Health and Recovery Services and its communities.
The Diversity and Equity Council started as the Cultural Competence Committee over ten years ago. The first meeting was held in a tiny room at Hillcrest. Since then, we've had the opportunity to discuss cultural competence in our work through networking, training (sponsoring or hosting), facilitation, film viewings and just getting together.
The Diversity and Equity Council is committed to supporting and guiding the Health Equity Initiatives.
If you are passionate about diversity, cultural competence and equity issues, contact the Diversity and Equity Council co-chairs, Narges Dillon and Maribel Rodriguez.
Diversity and Equity Council and Health Equity Initiatives Meeting Schedule