Medical Waste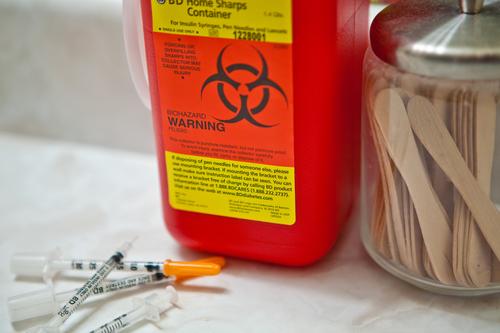 The Health System's Environmental Health is responsible for the regulation of medical waste generation, transport and disposal in San Mateo County.
Medical waste consists of sharps (needles, razor blades, pipette bits), bloody materials, bandages, and any other waste contaminated with body fluids.
The Medical Waste Management Act (MWMA) provides the authority to Environmental Health to issue a permit to and enforce regulations for facilities that:
Generate over 200 lbs/month (with and without onsite treatment)
Transport less than 20 lbs/week to another facility for disposal
Generate less than 200lbs/month or treat the medical waste onsite
Provide a common storage area for the medical waste generated at several facilities
The Department of Health Services (DHS) in Sacramento permits businesses that picks up waste and transports it to a treatment facility. DHS also permits the businesses that treat the waste to make sure that it is not harmful when it is disposed of in the landfill. Medical waste can only be transported and treated at a facility that has a DHS permit.
Program staff inspect each facility annually to ensure that medical waste is managed according to the MWMA regulations.
The following facilities generate medical waste: medical clinics, dental clinics, biotechnology research & development firms, hospitals, long-term care facilities (skilled nursing facilities), laboratories, and mobile clinics. Medical waste is also generated in some people's homes due to medical conditions that they may have.
Home-generated sharps waste is a concern. If the container having the sharps waste opens, the spilled sharps can be a stick-hazard to landfill employees.
Current Program Plans
New laws regulating the tattoo, body  piercing, and permanent cosmetics industry are currently being promulgated. This may create a new inventory that will require inspection–especially concerning the management of waste.
Additional Information
Medical Waste Information Letter
Certification for Non-Medical Waste Generators
Medical Waste Generator Permit Application
One Time Registration for Doctor and Dentist Facilities