Medical Waste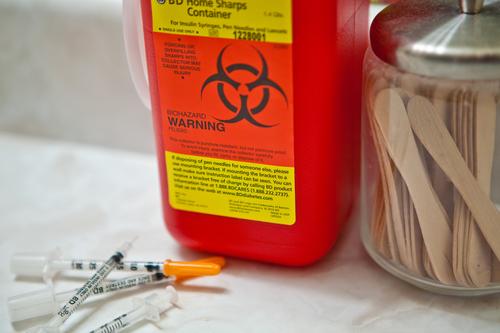 The San Mateo County Medical Waste Program has been managed by Environmental Health Services (EHS) since 1991. EHS is responsible for the regulation of medical waste generation, storage, transport and disposal. The Medical Waste Program is authorized by California's Medical Waste Management Act, which was passed by the California Legislature in 1990. EHS enforces both these regulations and our specifically adopted County requirements.
Businesses located within or that provides services in San Mateo County MUST register for the program regardless of the volume or frequency of medical waste generated.
Residents that generate Medical Waste DO NOT have to register but must dispose of their waste sharps and waste medicines properly.   The County has numerous free drop-off locations for residential waste sharps and medicines.
What is a Medical Waste?
There are five (5) categories of Medical Waste as defined in The Medical Waste Management Act (California Health and Safety Code Sections 117600-118360).
1. Bio Hazardous: Red bag waste, infectious contaminated solids
2. Sharps: Needles, Syringes, Blades, Broken Glass; capable of cutting or piercing
3. Pathology: Human Body parts, Specimens, Animals body parts and tissues
4. Trace Chemotherapeutic Waste: Items previously containing chemotherapeutic agents
5. Medicines or Pharmaceuticals
The Registration Process
1. Complete the registration form.
2. Complete the Medical Waste Management Plan.
The Medical Waste Management Plan is a template form.  Businesses may use the form provided or another format, as long as it contains all of the information required on the Medical Waste Management Plan form.
The Registration Form and the Medical Waste Management Plan may be emailed, faxed, or mailed to:
Email to : dacullen@smcgov.org
Fax to (650) 627-8244
Mail to: 

San Mateo County, Environmental Health Services
2000 Alameda de las Pulgas, Suite 100
San Mateo, CA 94403
San Mateo County categorizes medical waste generators into three categories called Tiers. The Tier a business is assigned develops standardization and determines their fee structure and its payment frequency, permit distribution, frequency of inspections, closure requirements, and overall risk potential to the County.
Tier I: Private doctors and dentists, acupuncturists
Small private doctors and dentists offices, acupuncturists, some businesses with Cosmetology services. All Tier I businesses are Small Quantity Generators, pay a one-time fee* with registration, and may be inspected intermittently.
*Registration Exception: Tier I businesses MUST send their one-time payment ($89.00) with the registration documents.  We will NOT process your registration until payment is received.  You may mail, call in or deliver in person your payment at the numbers and addresses above. 
Tier II: Small Quantity Generators (SQG) (generates < 200 lbs. per month)
Typical SQGs may be:
Veterinary Clinics, Veterinary Offices, Veterinary Hospitals, Biotechnology Companies, Pet Shops, Pharmacies, Medical Offices of Corporations (if not registered as a building) Medical or Dental Corporation Practices (Big 4), Skilled Nursing Facilities (SNFs), Specialty medical practices, Home Health care providers. 
*SQGs pay an annual fee and are inspected biennially.      
Tier III:Large Quantity Generators (LQG) (generates > 200 lbs. per month)
Typical LQGs are:
Hospitals, Bio Techs, Dialysis Units, Laboratories, Corporate MOBs, SNFs Surgery centers, Research Laboratories, Urgent care centers
LQGs pay an annual fee and are inspected annually
Additional or supplemental fee categories are:
Common Storage Areas
Skilled Nursing Facilities 
Onsite Treatment
Home Generated Sharps  Collection Location​
An account will be created (1-2 weeks) after registration forms have been submitted.  This will prompt your unannounced initial inspection (1-2 weeks after account created) during which your compliance will be assessed and your fee category and Tier assignment will be finalized.  The first fee invoice and permit will be mailed post inspection.