Youth Commission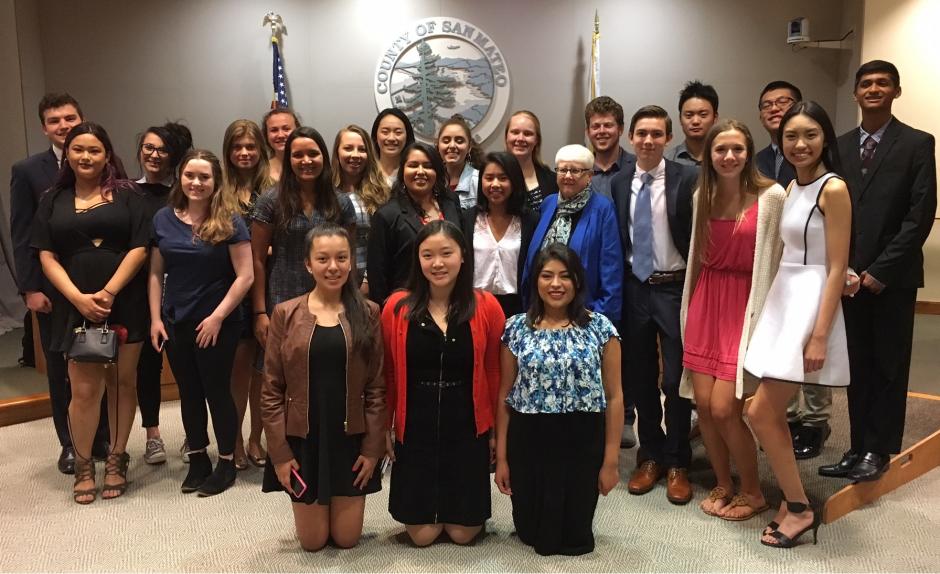 In 1993, the Board of Supervisors established Resolution 57588, which created the San Mateo County Youth Commission. This was then amended by Resolution 59609 adopted in 1995.
Mission Statement
The Youth Commission strives to address issues affecting youth in San Mateo County and close the gap between adult and youth perspectives. By placing youth in committees and on County Boards and Commissions, the Youth Commission increases awareness of and advocates for youth issues, advises the Board of Supervisors, presents policy recommendations, and creates projects that serve the community.
Introduction
The San Mateo County Youth Commission is an advisory commission to the San Mateo County Board of Supervisors, established in 1993 to address youth need in the county and provide youth voice in local government. The Commission consists of 25 members, between the ages of 13-21, who reside or attend school in San Mateo County. Funded by the Health and Policy Planning Unit of the County's Health Services, reporting to the Board of Supervisors, and housed under the Youth Leadership Institute, the Commission is a collaborative effort of all three San Mateo County serving entities.
Top Priorities for 2016-2017
Advocate for youth issues and amplify youth voices
Educate youth about health issues and increase access to services in order to promote emotional social mental and physical well-being among youth
Raise awareness and advocate for environmental action
Address issues facing youth, identified in the adolescent needs report
Promote civic engagement among youth and assert youth needs in local legislation
Help youth locate services in the community in order to promote equity
Publicize the Youth Commission and Youth Conference
Committees
Adolescent Needs
The Adolescent Needs Committee is the backbone of the Youth Commission. Every five years, ANC produces and disseminates the Adolescent Needs Report, a county-wide survey that identifies the needs of youth in the community, in partnership with the San Mateo County Health Services, as well as the San Mateo County Board of Supervisors. The latest survey was conducted in 2014. ANC is currently working to identify key priorities and policy recommendations through the survey, and implementing projects in the community to address those issues. This year, we have made infographics about FAFSA and raised awareness of marijuana use.
Teen Stress & Happiness
The Teen Stress & Happiness Committee works to become aware of, acknowledge, and address issues that affect the mental, physical, emotional, and social well-being of youth and teens in San Mateo County. In the past few years, we have focused on a range of teen issues, from cyber bullying to drunk driving to teen mental health, the latter particularly because of the increase in suicide rates amongst teens. We have given various presentations focused around teen mental health issues. Some examples include eating disorders, depression, stigma, transitioning into high school, to name a few. This year we are focused on addressing the problem of abuse in our county. Emotional, physical, and sexual. We are holding a forum, that will discuss domestic violence, human trafficking, and sexual assault, and how it affects our county.
Immigrant Youth
The Immigrant Youth Committee is a committee within the Youth Commission with the objective to emphasize the immigrant youth perspective through advocacy, legislation, and reports. We are currently working on the annual the Passion, Dedication, Determination Immigrant Youth award that will be presented to individuals who contribute to their communities. As well as the award, we are also currently working on investigating and reporting the San Mateo County's policies are on sanctuary cities and how we can make these policies known to the general public.
Environmental Protection
The Environmental Protection Committee, or EPC, is a group of 5 commissioners dedicated to helping promote environmental sustainability in the County. We do this through educational events and partnering with agencies who are involved in the environment. Additionally, we work to promote spending time in the outdoors, such as visiting parks and using active transportation like biking or walking. We are currently working on an educational awareness event about Bees that will be held in a County Park, and hope to hold an environmental art competition later in the year. Anyone who is passionate about the environment and spending time outdoors is more than welcome on our Committee.
Legislative
The Legislative Committee seeks to encourage youth civic engagement and educate youth on local and national legislature through public events, youth discussions, and panels. We also have the opportunity to propose county-wide legislation to the Board of Supervisors and advise them on youth-concerned legislation.
Current Commissioners
| | | | | |
| --- | --- | --- | --- | --- |
| First Name | Last Name | School | Term Beginning | Term End |
| Eeshan | Bhat | San Mateo HS (D2) | 7/26/2016 | 6/30/2017 |
| Cassandra | Fell | St. Ignatius School (SF) | 7/26/2016 | 6/30/2017 |
| Dominic | Hauscarriague | St. Ignatius School (SF) | 7/26/2016 | 6/30/2017 |
| Kevin | Huo | San Mateo HS (D2) | 7/26/2016 | 6/30/2017 |
| Ashley | Kall | Burlingame HS (D1) | 7/26/2016 | 6/30/2017 |
| Faith | Leung | St. Ignatius School (SF) | 7/26/2016 | 6/30/2017 |
| Chelsea | Lo | Burlingame HS (D1) | 7/26/2016 | 6/30/2017 |
| Annie | Lu | Mills HS (D1) | 7/26/2016 | 6/30/2017 |
| Clara | MacAvoy | Sequoia HS (D4) | 7/26/2016 | 6/30/2017 |
| Rodney | Martinez | Archbishop Riordan (SF) | 7/26/2016 | 6/30/2017 |
| Liza | Pertseva | Menlo-Atherton HS (D3) | 7/26/2016 | 6/30/2017 |
| Sarah | Pistorino | Sacred Heart Prep (D3) | 7/26/2016 | 6/30/2017 |
| Ashley | Ravid | Nueva HS (D2) | 7/26/2016 | 6/30/2017 |
| Rubi | Salazar | College of San Mateo (D1) | 7/26/2016 | 6/30/2017 |
| Justin | Shu | Aragon HS (D2) | 7/26/2016 | 6/30/2017 |
| Jackson | Smith | Woodside Priory (D3) | 7/26/2016 | 6/30/2017 |
| Roxanne | Urbani | Burlingame HS (D1) | 7/26/2016 | 6/30/2017 |
| Sophia | Vahanvaty | Urban School (SF) | 7/26/2016 | 6/30/2017 |
| Isabelle | Valdes | Carlmont HS (D3) | 7/26/2016 | 6/30/2017 |
| Margarita | Vasquez | SF State University (SF) | 7/26/2016 | 6/30/2017 |
| Noah | Weinstein | Mills HS (D1) | 7/26/2016 | 6/30/2017 |
| Kathryn | Wilson | Menlo School (D3) | 7/26/2016 | 6/30/2017 |
| Julianna | Wing | Notre Dame HS (D2) | 7/26/2016 | 6/30/2017 |
| Klytie | Xu | Mills HS (D1) | 7/26/2016 | 6/30/2017 |
| Milagros | Yoch | Notre Dame HS (D2) | 7/26/2016 | 6/30/2017 |
San Mateo County Youth Conference
The Youth Conference is a place for teens and youth groups in San Mateo County to showcase what they have been doing in our community. Attendees will be able to learn from other youth leaders, get connected to community resources, and meet adult community leaders.
SMCYC Group Resume
Below is an overview of the amazing skills and knowledge possessed by the San Mateo County Youth Commissioners.
Hometown
Burlingame
Emerald Hills
Foster City
Half Moon Bay
Hillsborough
Menlo Park
Millbrae
Pacifica
Palo Alto
Redwood City
San Bruno
Work experience
Ace Hardware
Babysitting
Congressional Internship
Event Organizer
Lifeguard
Peet's Coffee
Preschool Teacher's Aide
Restaurant
Starbucks
Swim Instructor
Tutoring
volunteer experience
4H
Camp Counselor
Coastside Youth Council
Girl Scouts
Homeless Shelter
Mills Peninsula Hospital
Mission Trips
Peninsula Family Service
Piano Player at Retirement Home
Relay for Life
San Bruno Parks and Rec
Soccer Camp
Star Vista Suicide Prevention Center
Today's Youth Matter
Tutoring
Youth Leadership Institute
leadership experience
Associated Student Body
Captain – JV Golf
Captain – Lacrosse
Captain – Soccer
Chair – SMCYC
Chapter President – Future Farmers of America
Coastside Youth Council
Communications Director – Health and Wellness Board
Delegate – American Legion Boys State
President – Biotech Club
President – Library Advisory Committee
President – Spain Club
educational experience
Advanced Placement

Biology
Calculus
English
European History
Government
Physics
Psychology
Spanish
US History

Astronomy
Coding
Music Theory
TV Production
Extracurricular Activities
Band/Musical Instruments
Basketball
Cheer
Choir
Coastside Youth Council
Crew
Cross Country
Field Hockey
Friday Night Live
Golf
Karate
Mock Trial
Model UN
Radio
Sailing
School Newspaper
SMCYC
Soccer
Taekwondo
Tennis
Water Polo
Wrestling
Yearbook
Youth Group
Hobbies, talents, and skills
Languages

Spanish
French
Russian
Mandarin
Hebrew

Gardening
Performing Arts
Photoshop
Sewing
Singing
Writing
travel experience
Africa
Americas

US States
Canada
Mexico
Guatemala
Belize

Arctic
Asia

Israel, Russia, China, Japan, Taiwan

Australia
Europe
England, France, Sweden, Greece, Italy
accomplishments
San Mateo County Youth Commissioner
Black Belt – Taekwondo
Brown Belt – Karate
Future Farmers of America – Chapter President
Water Safety Instructor
First Aid Training
Musical Theater
Poetry Contest Winner
SMCYC Meetings
Workgroup Meeting – 3rd Thursday of the Month, 6:15 – 8:15 PM, Health Services Building, Room 100, 225 – 27th Avenue, San Mateo
Public Meeting – 4th Thursday of the Month, 6:15 – 8:15 PM, San Mateo County Board Chambers, 400 County Center, Redwood City
Meetings dates subject to change. Please check the calendar for updates and events. All meetings are open to the public
Agendas
Agendas – 2016-2017
How to join
Requirements
The Youth Commission is comprised of 25 youth between the ages of 13-21 who reside or attend school in San Mateo County. Commissioners serve a fixed term from July 1st to June 30 and are required to attend 2 meetings per month.