Know the Signs
Suicide is preventable. Learn the warning signs.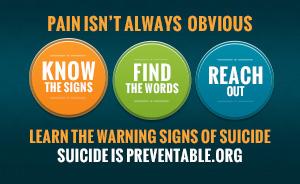 You can be the one to help.
Most people having suicidal thoughts are in a temporary, serious crisis. You can be the one to provide the support and help they need by taking three steps: know the signs of someone who is having suicidal thoughts, find the words to have a direct conversation with them and reach out for help from the many county resources available to those in crisis and their loved ones.
Whether you are struggling with suicidal thoughts, or are concerned about a loved one who might be, you are not alone. The San Mateo County community stands together to support those who are struggling, and guide them to the help they need.
For immediate help, you can call StarVista's 24/7 Crisis Hotline at 650-579-0350.
Want to learn how to better manage stress or face your worries and panic, attend one of our wellness classes.