Covid-19 Vaccine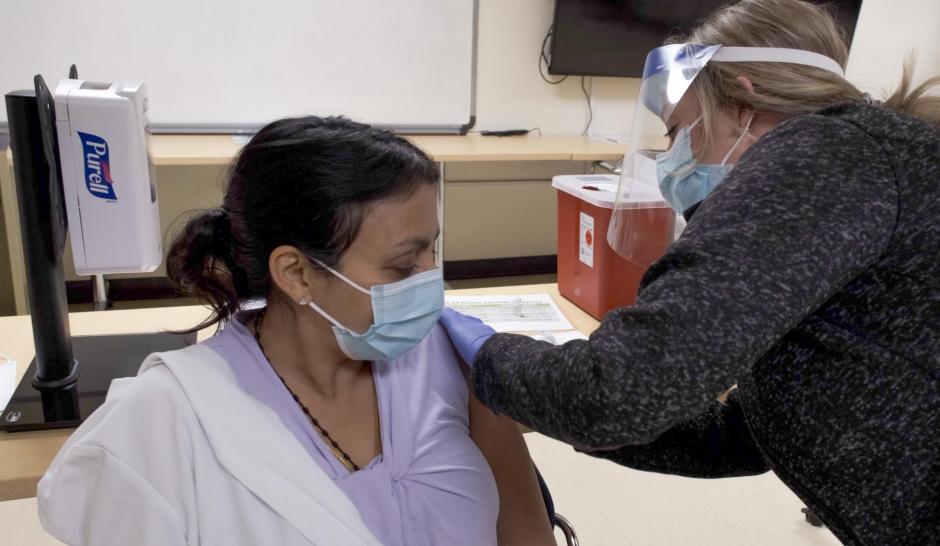 Update: April 15 2021
Para leer esta información en español, haga clic en el botón blanco "select language" ubicado arriba.
Getting the COVID-19 vaccine is one of the most important things you can do to avoid serious illness from COVID-19 and to help end the pandemic. We are committed to vaccinating all our patients as quickly as possible.
Starting April 15, all patients age 16 and older are eligible for the vaccine. Because demand is high, wait times can be long on the phone. We are also reaching out to patients to offer appointments.
Sign Up for Notification & Stay Safe
Sign up for the County's notification tool to receive notification of community clinics in San Mateo County.
Sign up for MyTurn for information about getting the vaccine at a pharmacy or state-run large vaccination clinics.
Stay safe by washing your hands frequently, wearing a mask, staying 6 feet away from others, and avoiding gatherings.
Stay informed by visiting this page often. You can get more information from San Mateo County Health.
Read more about the safety of the vaccine, and review the Emergency Use Authorizations (EUA).
Be aware of scams related to the COVID-19 vaccine.
Frequently Asked Questions
General FAQs are available here and updated frequently. Below are questions for patients of our clinics.
When and where can I get the COVID-19 vaccine?
We are reaching out to patients as appointments are available. We are committed to vaccinating our patients as soon as possible, but we do not yet have a timeline for when all patients can get vaccinated.
Who should get vaccinated?
The vaccine is recommended for all adults, especially older adults and those with chronic conditions and other health issues. The Pfizer vaccine is for patients 16 and older. The Moderna vaccine is for patients 18 and older.
Who should NOT get vaccinated?
People with a severe allergic reaction to the first dose of the COVID-19 vaccine should not get the second dose.
People who are allergic to PEG (polyethylene glycol) should not get an mRNA COVID-19 vaccine. If you are allergic to polysorbate, you should talk with an allergist to weigh the risks and benefits of being vaccinated.
If you have received any other vaccine in the last 14 days, you must wait to get vaccinated. Once you get vaccinated, you cannot get any other vaccine until 14 days after your second dose of the COVID-19 vaccine.
Can I get the vaccine even if I have a chronic disease?
Yes. People with chronic diseases (e.g. high blood pressure, high cholesterol, heart disease, diabetes, asthma) should get the COVID-19 vaccine because they are at higher risk for serious COVID-19 disease if they get infected.
If I have allergies, is it OK to get the vaccine?
Yes. The CDC recommends that people with a history of severe allergic reactions not related to vaccines or injectable medications—such as food, pet, venom, antibiotic, environmental, or latex allergies—should get vaccinated since none of these things are in the vaccine. People with a history of allergies to oral medications or a family history of severe allergic reactions may also get vaccinated.

People with a severe allergic reaction to any vaccine or injectable medication should talk to their healthcare provider before getting the vaccine.
Should I get vaccinated if I am pregnant?
The COVID-19 vaccine is recommended for all adults. If you are pregnant and have questions about getting vaccinated, please talk with your doctor. While breastfeeding is an important consideration, it is rarely a safety concern with vaccines.
Should I get vaccinated if I am trying to get pregnant?
Routine testing for pregnancy before getting the COVID-19 vaccination is not recommended. Women who are trying to become pregnant do not need to avoid pregnancy after receiving the Pfizer or Moderna COVID-19 vaccine.
Does the vaccine have side effects?
The side effects for most people are mild: fatigue, muscle aches, and fever. The side effects should go away in 1-2 days. The side effects may be your immune system responding to the vaccine.
How many shots will I need?
Most COVID-19 vaccines require two doses – the first shot, and then a second shot several weeks later. It's very important to get both doses to get the full protection from COVID-19.
Is the vaccine free?
Yes. The COVID-19 vaccine is free for patients.
What should I bring to my vaccine appointment?
Please bring a photo ID, if you have one. Also bring your Health Plan of San Mateo membership card and/or your yellow card.
How can I get a ride to my appointment?
SamTrans will provide free bus rides on existing service to COVID-19 vaccination sites for people living or working within San Mateo County. Read more here.
Health Plan of San Mateo (HSPM) offers a transportation benefit to members. To schedule a ride, Medi-Cal members should call 1-844-856-4389, and CareAdvantage members should call 1-877-356-1080.
Another option is Redi-Wheels. Call 650-482-9360.