Rehabilitation Services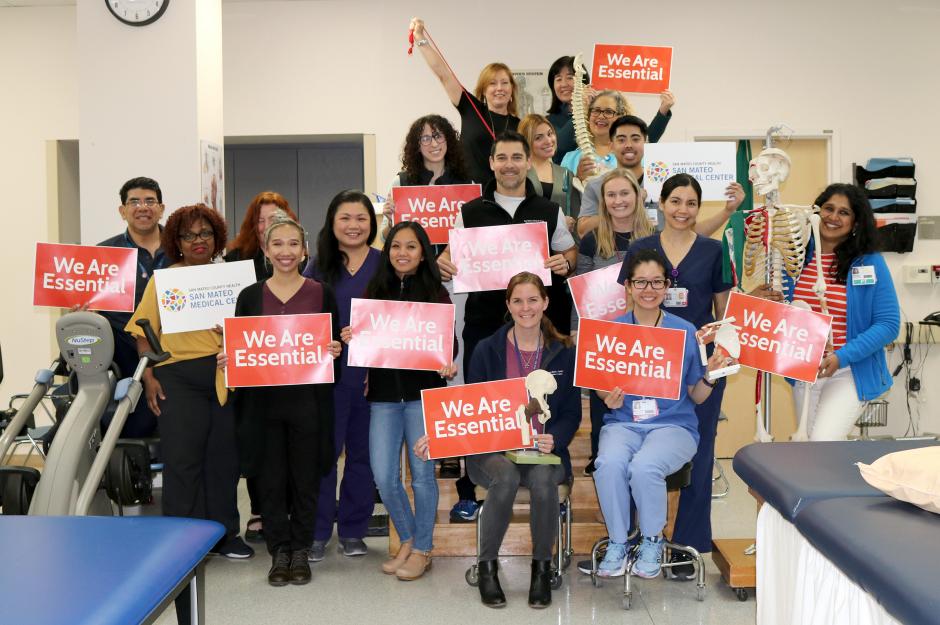 Inpatient Gym Hours
Monday – Saturday: 8:00 a.m. – 4:30 p.m.
Outpatient Gym Hours
Monday – Friday: 7:00 a.m. – 4:30 p.m.
Location
San Mateo Medical Center
222 West 39th Avenue
San Mateo, CA 94403
Directions
Enter the main lobby. Take the elevators down to the ground floor Rm# EO1. The Outpatient Therapy Department is located next to Café 39. Please follow the green arrows.
Instructions
You must have a physician's referral to receive rehabilitation services. After seeing your Doctor, you should receive a form that gives you the instructions for how to contact our department to make an appointment.
Services
San Mateo Medical Center offers both inpatient and outpatient services, including:
Audiology
Occupational Therapy
Physical Therapy
Speech/Language Therapy
If you do not have insurance, we offer financial assistance.
Rehabilitation Services Descriptions
Our goal is to bring individuals to their highest level of practical functioning through efficient delivery of evidenced based interdisciplinary rehabilitation practice. We offer our patients a variety of rehabilitation services, including:
Audiology
Audiologists are health-care professionals who evaluate, diagnose, treat, and manage hearing loss, tinnitus, and balance disorders in newborn, children, and adults.
Physical Therapy
Physical therapists (PT) promote the ability to move, reduce pain, restore function, and prevent disability. In addition, PTs work with individuals to prevent the loss of mobility before it occurs by developing fitness- and wellness-oriented programs for healthier and more active lifestyles.
Occupational Therapy
An occupational therapist evaluates and focuses on a patient centered approach to provide services that enhance quality of life and promote functional independence for activities of daily living (ADLs). ADLs include feeding, dressing, hygiene/grooming, toileting, showering in conjunction with exercise, splinting and other therapeutic activities.
Speech Therapy
Speech-language pathologists diagnose and evaluate speech, language, and swallowing disorders. Patients are helped to recover their ability to communicate thoughts and feelings following a stroke, head injury or disease. Therapists work with patients to improve speech, language, voice quality, cognition (thought process) and swallowing.