COVID-19 Prevention Strategies
Best Practices to Slow the Spread of COVID-19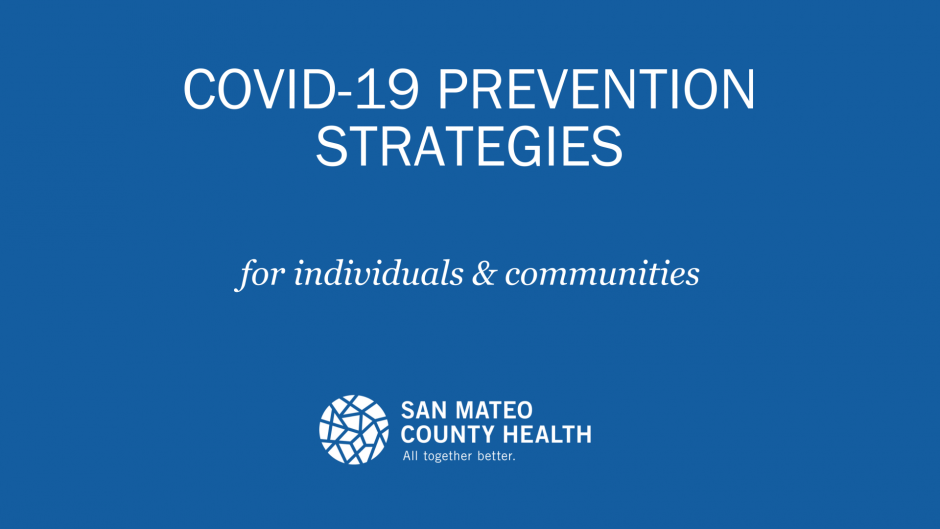 When COVID-19 cases are high in San Mateo County and the Bay Area region, it's important to pay attention to protective measures like being current with vaccinations and boosters, getting tested if you have symptoms, wearing high-quality masks (like N95 or KN95), and increasing indoor ventilation — open windows and doors where possible and avoid indoor spaces with poor ventilation. The usual steps for protecting yourself and your community are more important now as cases are starting to rise. To view the current transmission level in San Mateo County please visit the Centers for Disease Control and Prevention (CDC) Community Transmission Level tracker.
Exposure Risk
The CDC provides information on COVID-19 Community Levels and risk prevention. The CDC also offers a Community Transmission Level tool to monitor the rates of COVID-19 in various counties. For state data on COVID-19 and vaccination rates, visit the CDPH site Tracking COVID-19 in California. As transmission rates increase in your area, it is recommended to increase preventative strategies, such as getting your booster shot and wearing a mask.
Individual Prevention
Wear a high-quality mask (N95, K95) in indoor public spaces such as grocery stores
Stay up to date with COVID-19 vaccines and boosters and second boosters when eligible
Maintain improved ventilation throughout indoor spaces when possible and avoid closed spaces with poor ventilation
Stay home if you feel sick and get tested right away
Follow the California Department of Public Health (CDPH) guidance on isolation and quarantine
If you are immunocompromised or at high risk for severe disease, have a plan for rapid testing (e.g. access to at-home tests) and talk to your healthcare provider about whether you are a candidate for treatments like oral antivirals, pre-exposure prophylaxis (PrEP), and monoclonal antibodies
Community Prevention
Distribute and administer vaccines to achieve high community vaccination coverage and ensure health equity
Ensure access to testing, including through point-of-care and at-home tests for all people
Communicate with organizations and places that serve people who are immunocompromised or at high risk for severe disease to ensure they know how to get rapid testing
Ensure access and equity in vaccination, testing, treatment, community outreach, support services for disproportionately affected populations
Importance of Indoor Ventilation
Proper indoor ventilation while gathering inside reduces the spread of COVID-19. Proper ventilation includes opening windows and doors to bring fresh air in or using an air filtration system (please check air quality during fire season prior to opening windows and doors). Using an air filtration system indoors can reduce COVID-19 particles in the air by 72% after an hour of use. Leaving a single window open for an hour can reduce COVID-19 particles by 44%. Practicing these simple steps when gathering indoors, can significantly reduce the risk of spreading COVID-19. For further guidance on indoor ventilation from the CDC, visit Improving Ventilation in Your Home.
CDC Indoor Ventilation Tips
The risk of getting COVID-19 varies according to individual susceptibility and the number of virus particles to which a person is exposed. The fewer virus particles in the air, the better. Adjusting ventilation settings can reduce the number of particles and infections.
Bring as much fresh air into your home as possible.
Open doors and windows as much as you can to bring in fresh, outdoor air, if it's safe to do so.
If opening windows or doors is unsafe, consider other approaches for reducing virus particles in the air, such as using air filtration and bathroom and stove exhaust fans.
Filter the air in your home.
Set the fan to the "on" position instead of "auto" when you have visitors.
Change your filter every 3 months or according to manufacturer's instructions
Use fans to improve air flow.
Place a fan as close as possible to an open window blowing outside, which helps get rid of virus particles.
Point fans away from people.
Consider using a portable air cleaner, particularly when you have guests.