Vaccination Totals & Locations Data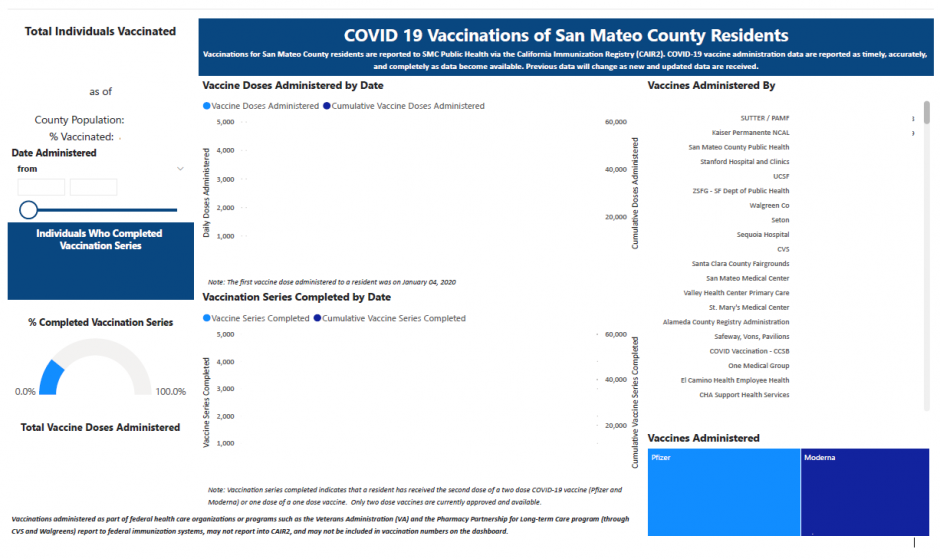 October 14, 2021: San Mateo County Health processed a correction to the vaccination data dashboards that has decreased the number of vaccinated county residents by about 5 percent. Read more about the correction here.
Vaccinations for San Mateo County residents are reported to SMC Health via the California Immunization Registry (CAIR2). COVID-19 vaccine administration data are reported as timely, accurately, and completely as data become available. Previous data will change as new and updated data are received. This dashboard provides a summary of vaccinations administered to San Mateo County residents only and does not include vaccinations provided by federal organizations such as the Department of Veterans Affairs (VA).
This dashboard draws on demographic projections from the California Department of Finance, providing accurate and detailed population estimates by race/ethnicity and gender, and for all age categories.
The demographic information here cannot be cross mapped to location-related dashboards, showing vaccine reach in cities, ZIP codes, and census tracts because these geographic analyses must draw on data from a different source, the American Community Survey (US Census Bureau). Read more about the limitations on reporting vaccination data by race and ethnicity.