Vaccinated Residents Location Data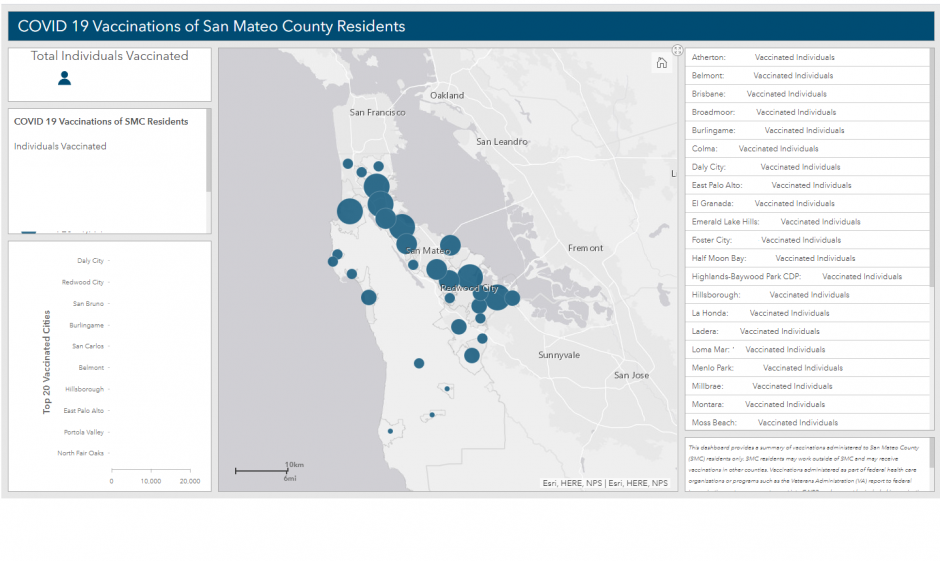 October 14, 2021: San Mateo County Health processed a correction to the vaccination data dashboards that has decreased the number of vaccinated county residents by about 5 percent. Read more about the correction here.
Vaccinations for San Mateo County residents are reported to SMC Health via the California Immunization Registry (CAIR2). COVID-19 vaccine administration data are reported as timely, accurately, and completely as data become available. Previous data will change as new and updated data are received. This dashboard provides a summary of vaccinations administered to San Mateo County residents only and does not include vaccinations provided by federal organizations such as the Department of Veterans Affairs (VA).
NOTE: The information below is based on standard available estimates for city and town populations. Estimates are less precise for towns/places with small populations. The smaller the population of a town/place, the less precise the estimate. A town or city may show 100% percent vaccination of eligible residents, but it may be due to an underestimate of the current population.