Mental Health Services Act Update
Prop 63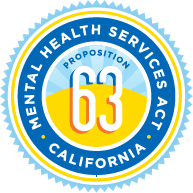 Next MHSA Steering Committee
The next San Mateo County Mental Health Services Act (MHSA) Steering Committee has been scheduled and, as always, is open to the public. The Steering Committee meets twice a year and makes recommendations for the planning, funding and services development of MHSA.
MHSA Steering Committee Meeting
Monday, September 24, 3 to 4:30 p.m.
Foster City Community Center, Wind Room
1000 E Hillsdale Blvd. Foster City, CA 94404
Agenda
Review MHSA framework and key principles for funding programs and expansions.
Learn about the Pride Center outcomes and the request for a two-year extension.
Learn the next steps for the MHSA Innovation funding cycle.
Key Action Item: Steering Committee members to approve a recommendation to request an Innovation fund extension for the Pride Center.
Assembly Bill (AB) 114 Update
As reported in previous Wellness Matters issues, AB 114 legislation allowed Counties to submit a plan by July 1, 2018 for spending funds that were subject to reversion since the inception of MHSA. Most MHSA funding must be spent within three years. A total of $4,256,155 was determined reverted as of July 1, 2017 and reallocated back to San Mateo County for AB 114 planning.
The San Mateo County's proposed AB 114 Plan, which includes an Innovation (INN) Plan for technology-based behavioral health interventions, was approved by the Board of Supervisors on August 7, 2018. The next step is approval by California's Mental Health Oversight and Accountability Commission (MHSOAC). San Mateo County's INN plan will be reviewed by the MHSOAC on September 27, 2018.
In anticipation of an approval from the MHSOAC, we have released a Request for Letters of Interest to determine
potential phasing of the project needed to manage implementation
interest in participating in an advisory committee, which will provide input and oversight to project implementation activities, and
interest of community organizations and internal BHRS programs.

Funded programs and/or agencies will provide support to peer end-users, provide face-to-face support services and outreach to users. Outreach through the use of devices, like smart phones, tablets and computers, is intended to increase access to and encourage regular engagement of individuals who are struggling to connect with traditional mental health settings.