Behavioral Health & Recovery Services Dashboards
Medi-Cal Specialty Mental Health Services Performance Dashboard
Pursuant to the requirements of the 1915(b) Specialty Mental Health Services (SMHS) Waiver Special Terms and Conditions #1, the Behavioral Health & Recovery Services Division (BHRS) SMHS Performance Dashboard makes available to the public data on services provided to Medi-Cal eligible beneficiaries by BHRS and their contracted organizational providers. To protect patient privacy, all data is published in accordance with the DHCS Public Aggregate Reporting Guidelines.
The State of California, through the Department of Health Care Services (DHCS), will also display county-specific data in the coming months. Viewers will be able to see both state-specific and county-specific data here and on the DHCS website. Producing state-level and county-specific dashboards will make information on the performance of California's  Specialty Mental Health Services (SMHS) readily available to the public and meets the requirements and intention of the 1915(b) SMHS Waiver Special Terms and Conditions.
2016 San Mateo County Mental Health Dashboards Compliant with 1915b Waiver
Other BHRS Dashboards
The BHRS EQRO Dashboard provides data for Fiscal Years 2014/2015, 2015/2016 and 2016/2017 covering the period from July 1, 2014 through June 30, 2017. Each fiscal year is presented separately and there is a table comparing fiscal years 14/15 and 15/16. The data measures used for each fiscal year are derived from the annual External Quality Review Organization (EQRO) Report.
FY 16/17 Dashboard
Click to view the FY 16/17 Dashboard
FY 15/16 EQRO Dashboard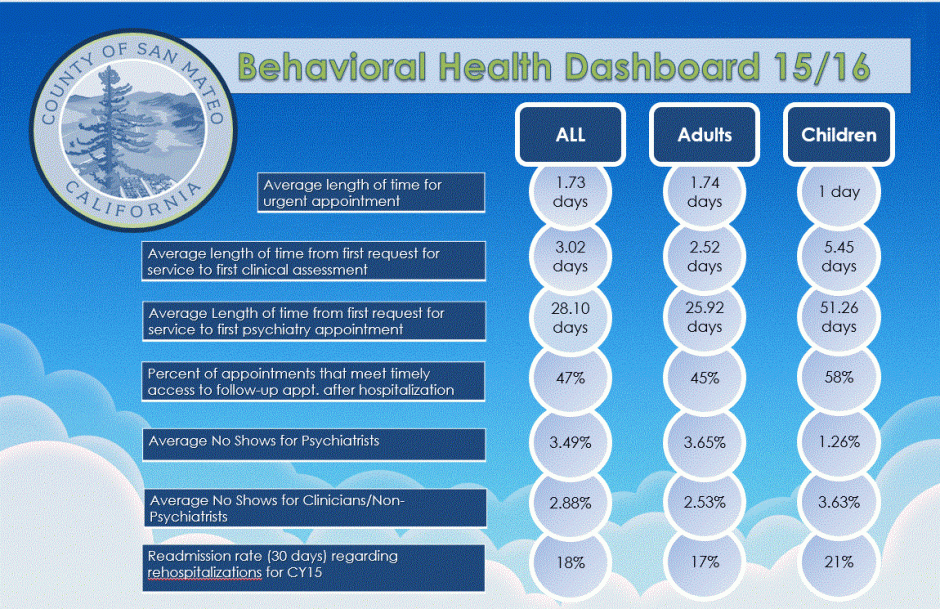 FY 14/15 Dashboard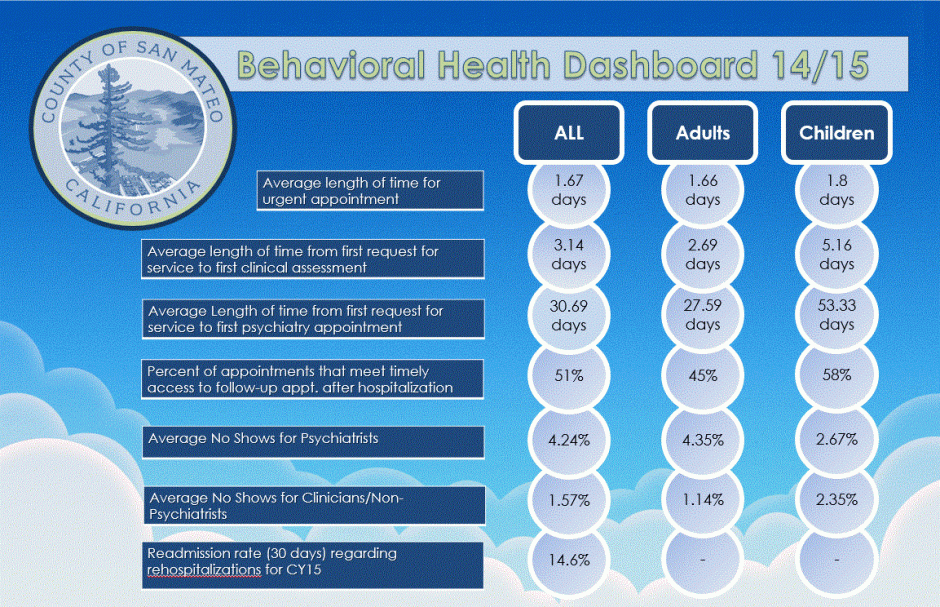 FY 14/15 – 15/16 Comparison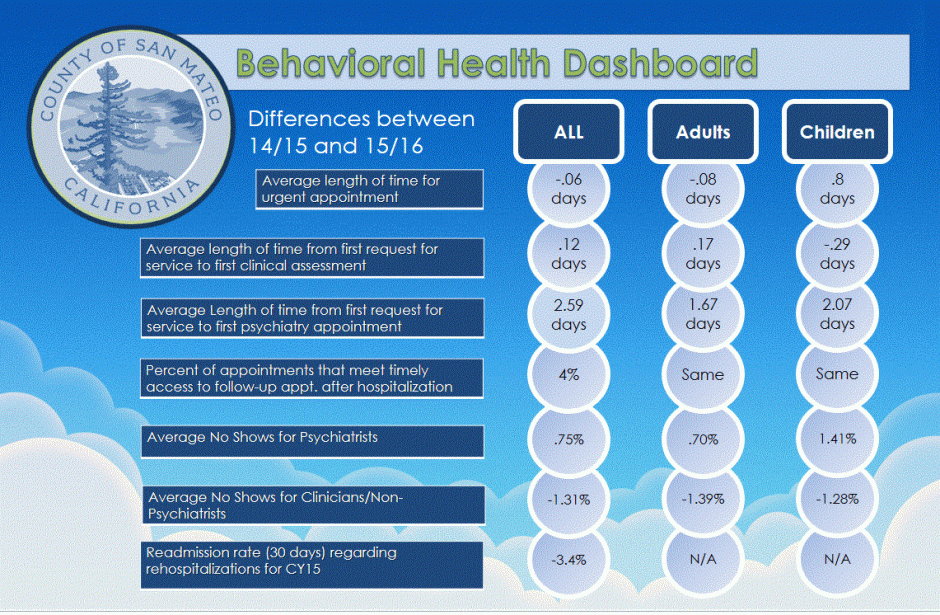 Urgent Appointment Wait Time
The average length of waiting for an urgent appointment is the first data set displayed. Between 2014 and 2015, the average wait time for an urgent (within 72 hours) appointment increased by 0.08% overall, but decreased for Children while increasing for Adults.
Request for Service Wait Time
The average wait time between a request for service and the first appointment with a therapist improved overall, but increased slightly for Children while decreasing for Adults.
Time Between Request for Service and First Appointment
The average wait time between a request for a service and the time for the first appointment with a doctor improved across the board. Timely follow up with patients released from inpatient psychiatric hospitalization, as measured by 30 days following discharge, shows little difference between the last 2 years with about half of the patients receiving a service within the first 30 days following discharge from a hospital.
Appointment No Show
The average no show for an appointment for doctors decreased, meaning more people showed up as scheduled, but the opposite was true for therapist where no shows increased.
Hospital Readmission Rate
The hospital readmission rate (patient that discharged from an inpatient psychiatric hospital and then re-admitted to a hospital within 30 days) increased slightly.