Healthy Nail Salon Reward Program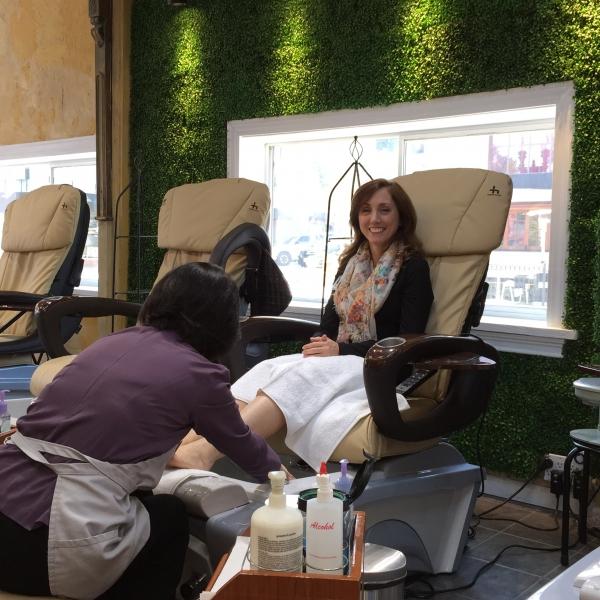 Pretty Shouldn't Stink
The next time you get your nails done, choose a Healthy Nail Salon.
Certified salons have committed to using less toxic products, safer practices and better ventilation, so you can breathe easier knowing they are healthier for you, their employees, and the planet.
Safer Products
Nail polishes without the toxic trio: toluene, dibutyl phthalate, and formaldehyde, which can cause cancer
Nail polish thinners without toluene and methyl ethyl ketone
Nail polish removers without ethyl acetate and butyl acetate, which irritate eyes and skin
Artificial nails without methyl methacrylate, which can cause birth defects and rashes
Safer Practices
Employees wear gloves when working with chemicals
Technicians use ventilation units when providing artificial nail services to remove fumes and dust from the air
Why did we start this program?
San Mateo County wants to keep nail salon customers and employees safe! Nail technicians are routinely exposed to many hazardous chemicals found in nail salon products for long periods of time. These chemicals have been linked to health impacts that include cancer, birth defects, asthma, rashes, and other serious health conditions. While customers are not exposed to the chemicals for as long, there is still a concern for those that visit nail salons often.
The California Board of Barbering and Cosmetology regulates other health aspects of nail salons, such as inspecting them for cleanliness. Contact them or report an issue here.
Certified Healthy Nail Salons in San Mateo County
Burlingame
Lulu Nail Spa
1134 Broadway Avenue
(650) 343-4472
Maite Nail & Skin Spa
349 California Drive
(650) 343-1227
Spa Élysée
1360 Broadway Avenue
(650) 342-0858
Menlo Park
Ann's Nail Spa
1150 El Camino Real
650-326-7755
Millbrae
Today's Nails
18 Hillcrest Blvd.
(650) 697-1838
Pacifica
Kim's Natural Nails*
450 Dondee Way, Suite 12
(650) 355-8744
Nails by Lisa 
345 Rockaway Beach Ave.
(650) 738-8186
Pro Nails
88 Eureka Square
(650)355-8839
Redwood City
Bamboo Nail Spa
810 Middlefield Road
(650) 369-5555
San Carlos
Avantgard Spa 
1224 El Camino Real
(650) 591-1498
Peace of Mind Pedicure & More*
1100 Laurel Street
(650) 595-4148
San Mateo
Mani-Cute Nail Salon
1864 S. Norfolk St.
(650) 349-3536
*Asterisk indicates salon is not accepting Healthy Nail Salon Reward Program coupons.
Other Healthy Nail Salon Programs